Bodegas Torre de Oña
Winery Torre de Oña
Torre de Ona, winery belonging to the group since 1995 La Rioja Alta SA, is located in the town of Páganos, near Laguardia, one of the most privileged places in the Rioja Alavesa. The vineyards, located at 630 meters (almost an altitude limit for growing grapes in this geographical area) are guarded by the Sierra de Cantabria, which exerts a protective barrier stopping the wind and cold from the north.
Vineyard
The vineyards owned by Torre de Ona fall into three main areas, according to the characteristics of the soil in each. All of them are located adjoining each other between the towns of Páganos and Laguardia, with a total area of almost 54 hectares.
In the first zone, consisting of a soft hillside erosion of 30 hectares of low organic matter content and poor quality land, include Tempranillo and Mazuelo varieties. In the second, almost 15 acres, include the silty fine-textured soils, high carbonate content and the predominant variety Tempranillo. Finally, the smallest extension of 9 hectares, is dedicated exclusively to developing its wine aging Finca San Martin, and is also planted with Tempranillo.
Facilities
The winery is located in a small beautiful comprising the winery, the manor house and a little more secluded, the shrine of Santiago architectural ensemble.
The winery has cared facilities with Julio Sáenz such enological forward responsibly. They emphasize the experimental ship, where the winemaker himself develops different trials and tests, analyzes the behavior of different types of wine in oak, different coupages, etc.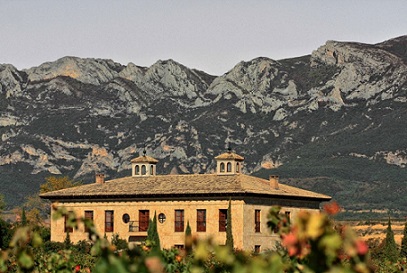 Rioja wines
Bodegas Torre de Oña
5471
Rioja wines
Bodegas Torre de Oña
1027
Finca San Martin Crianza Finca San Martín is a wine made with Tempranillo grapes from the vineyard that gives it its name, located in the heart of Rioja Alavesa. A Crianza that expresses freshness, liveliness and a lot of fruit character. A good companion for a large number of gastronomic experiences from a harvest of magnificent quality.